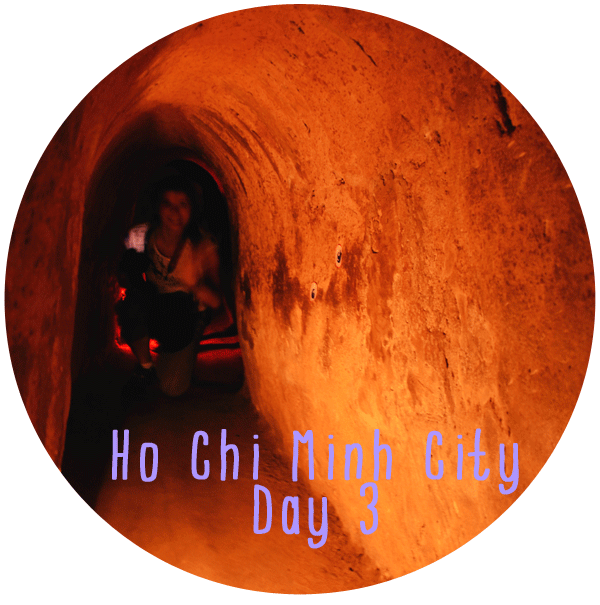 One thing I dislike about traveling is the organized tours.
I avoid them as a rule of thumb, but sometimes it is a lot cheaper and easier to book an organized tour especially when visiting a major attraction located in an inconvenient place. We wanted to go to the Cu Chi tunnels which was about an hour and a half away from HCMC, and so we booked a full-day tour with our hotel for about RM30 per person. The price included transportation in an air-conditioned bus and a tour guide and pick-up from your hotel, so it was hardly stressful. It felt like a school trip with ducklings. The other people following the tour yakked away during the three-hour journey to Cao Dai temple.
But as per organized tour custom, unwanted detours from the itinerary was unavoidable. We were dropped off at the Handicapped Handicrafts factory which was a government scheme to help the people who were disabled as a result of the Vietnam War to become self-sufficient. Prices were so hiked up we couldn't even afford to buy the cheapest item. The visit was okay, we saw how the handicrafts were put together through painstaking processes like sticking bits of eggshells to parts of the painting.
We arrived in Cao Dai temple and I didn't realize it then, but we were only kilometres away from Hoi An which looks like a beautiful trading port of Vietnam. We made it in time to witness the mid-day ceremony. I lost interest after a few minutes. I don't think the temple is terribly fascinating; the three-hour ride was easily not worth it.
As with all organized tours, we had lunch in an unimpressionable restaurant with just decent food and prices equal to that in the city centre of HCMC.
Finally, at about 4pm, we arrived at the Cu Chi tunnels. We were guided around some exhibits that illustrated the traps, sniper holes, bombs and bunkers used during the war.
Here our tour guide Mr Binh demonstrated how being able to crouch as a second-nature ability had given the Vietnamese defensive advantage.
Then we were led to the tunnels! These were the 'tourist-friendly' tunnels, which had been enlarged to accommodate the typical Western tourist. And yet they were only about 1-metre wide. The passage was about 100m long, but we can get out at approximately 25m intervals if we wanted to.
The whole day of traveling across Vietnam could not compare to the brief ten minutes we spent in the tunnels. It was dark and tiny, and you couldn't make yourself comfortable no matter what you did because there simply wasn't any space to spare. I tried duck-walking and it hurt after a while and so I tried to stand up and it hurt my back because the tunnel was barely five feet tall. There were red lights along the tunnel, but between the lights was simply black void. It was hard to navigate and I bumped my head several times as I shuffled along towards the general direction that seemed to be about right.
I would have been paranoid about being boxed in, but I was too busy recording a video and trying not to hit my head again to develop that paranoia. I could easily picture a claustrophobic person in my position foaming in the mouth and feeling trapped in from all sides, while the only direction to move in led into darkness with the promise of more tight spaces. There was an atmosphere of complete isolation from the outside world, save the chatter of tourists to remind me that I was in safe company. When I replayed the video, it was noisy with hysterical laughs from the tourists behind me. It was surreal.
At the first exit interval I decided to trudge onwards. On I went, sometimes on both hands and knees, sometimes bent stiffly, dragging along my camera bag in whichever way it seemed to fit. At the second exit I called quits and got out; climbed the ladder towards the liberating sunlight. Sweaty and soiled, the soreness hit me at once. Ten minutes inside a manmade tunnel did to my body what twelve hours of walking around HCMC the day before did not.
Later after we were dropped off near our hotel, we went wandering around Dong Khoi street again because I had some idea to try French food in Vietnam, but eventually we settled for VinaOne at random. The whole menu was in Vietnamese but the waiter showed us the pictures through an iPad so I got my order placed quickly. And it was great! My beef fillet was cooked exactly the way I like it, without my requesting it. And it was cheap too, I think my beef fillet with rice was about RM10. I also had their flan dessert but it was like the ones on the streets: slightly hard and I didn't like it.
We had very strong iced coffee in Phuc Long. My mother liked it so much that we bought all our souvenirs here.
To finish the day, I had ice cream in a place called Bach Dang along Le Loi street. It was crowded with locals so I ordered an orange juice ice cream (which is basically ice cream with a stream of orange juice around it) to find out what was so great about this place, and it was disappointing. Ice cream was just OK, maybe a tad bit too sweet. I didn't finish it. It was a waste of money: RM10 for ice cream that took up space in my stomach when I could eat my dessert elsewhere! Or another serving of beef fillet!
Served me right for judging a place by how crowded it looks. I only regretted not being able to eat somemore before fatigue took over.