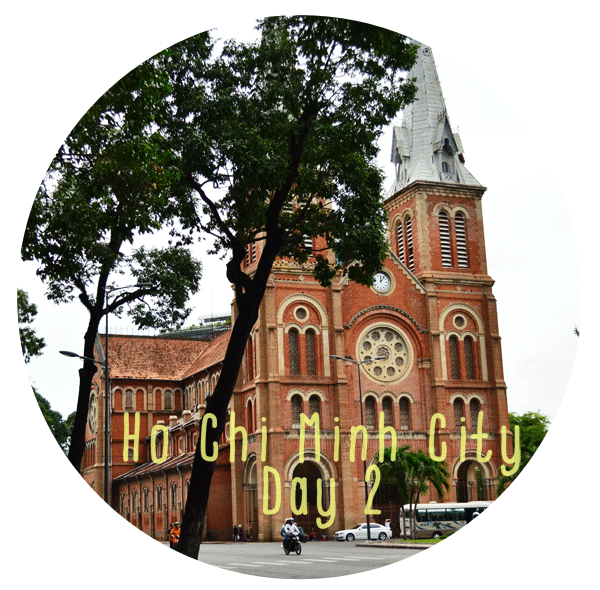 The next day was sightseeing day.
But first, we had lunch in Nhà Hàng Ngon which is a collection of hawker stalls. I had chicken curry with steamed rice and it was so gooood and I was really happy. And the iced coffee with condensed milk was superb as well.
The majority bucket list of the main tourist attractions were accessible on foot, even though it was a rainy day in HCMC. The whole area was easily navigable because of the helpful street signs. There was the Saigon Central Post Office which reminded me of a railway station:
The Reunification Palace which I found all right; there were hordes of eager tourists snapping photos away. The basement was the highlight of the building though. It was a series of claustrophobic green-walled tunnels leading into tiny offices with antique radio receivers and telephones.
The Notre Dame Basilica.
Ho Chi Minh City Hall
Along our walk, we found Saigon Square which was just north-west from the main entrance of Ben Thanh market. Inside this air-conditioned building were crammed hundreds of clothing and bag and sunglasses stalls under fluorescent lighting. There were brand labels, rip-offs, or rejects from the factory in Vietnam, but they were very convincing, right down to the label sewed onto the clothing to the care instructions to the price tags. They were very cheap though, after haggling, one could expect RM20 for a T-shirt or less, and I got a pair of Zara shorts for about RM25.
HCMC has a very healthy cafe scene going on. There is a pretty little cafe just about every corner of District 1. Coffee is usually excellent, for about the same or less than the price of a cafe latte in Starbucks. The one I went to was called Cafe Fresco, next to Saigon Square.
I found a great bakery here too. Actually, it's not too hard to find, since Tous Les Jours seems to be everywhere. I had a sweet strawberry pastry and a croissant on the first floor balcony which overlooked the impossible traffic of Saigon city.