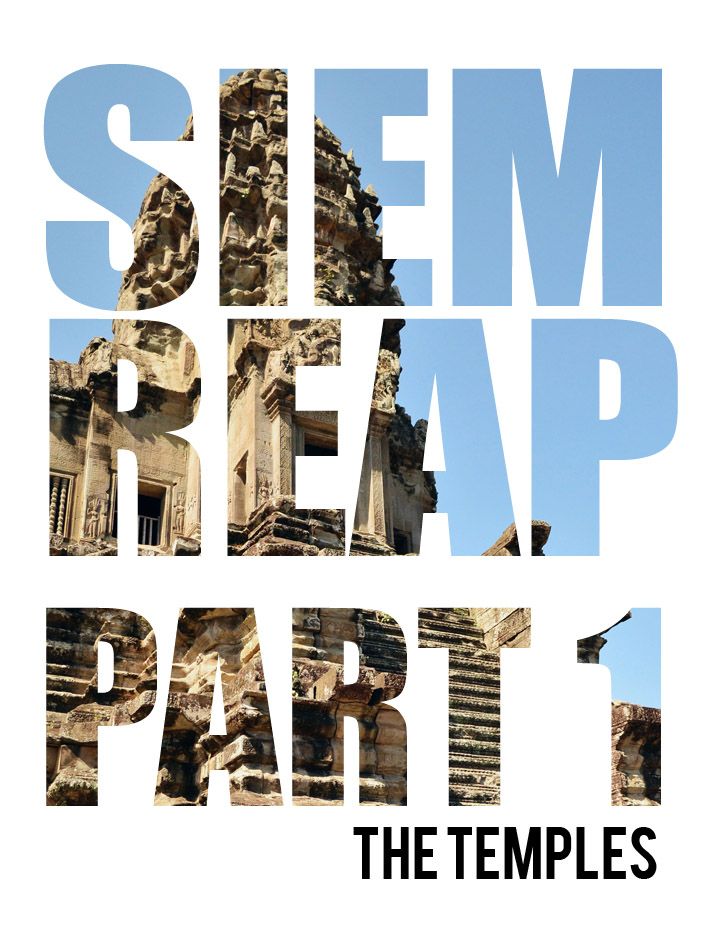 This is about that one time about a week ago that I went to Cambodia and saw a lot of rocks.

Part 2: Food | Part 3: Out & around
Siem Reap is all about the ancient temples, so with six days to spend over here in the tourist city of Cambodia, we bought the three-day pass for $40 per person. This pass allowed us to visit any temple within the Angkor Archaeological Park (with some exceptions for temples further away). By the eighth temple, the ruins of the mythical and grand sanctuaries of the Khmer gods have started melting under the heat and looking like a pile of similar rocks to me. Analyzing the maps I thought it was possible to walk from one temple to the next, since they were located very near to each other, but in reality it was a workout even getting from one end of the temple to the other end, not to mention the steep climbs and scorching heat. Between temples our tuk-tuk driver took us across country roads and through Angkor forests.
1. Angkor Wat
This is the first temple we visited so it inspired wonder and awe. In my excitement to visit this great landmark I bought a guidebook in a hurry [Ancient Angkor] for $20 which is probably 400% more expensive than I could have gotten it if I took my time under the invading sun and bargained good-naturedly. Angkor Wat is constantly surrounded by its moat, as without the water, its foundations would shrivel up and the whole centuries-old complex would collapse. Contemporary buildings in Siem Reap are not allowed to be taller than the Angkor Wat.
2. Bayon
The Bayon temple which is located in Angkor Thom is instantly recognizable by its face-towers. The face-towers are so numerous that they have no special meaning whatsoever, hence supporting my theory that the ancient Angkorians were perpetually high.
3. Ta Keo
The third temple before lunch, we were so hungry that being confronted with steep stairs leading up to another bunch of rocks made us turn away immediately and ask our tuk-tuk driver to bring us to the nearest lunch stop (it was a tourist trap but whatever).
4. Ta Prohm
Ta Prohm is my favourite temple because it made me feel like an explorer, the kind that goes around lurking in temples thinking there's treasure to be found. Ta Prohm is left the way it was when it was discovered and no restoration has been carried out here. The trees intertwine with the rubble as obstacles of fallen gopuras block my destined path. It is probably a rather dangerous site to visit.
5. Banteay Kdei
ANOTHER TEMPLE? Huh, okay. Before we even made the 200m journey into the complex we were stopped by vendor children selling 1-dollah bracelets and postcards. My mother bought 10-dollars worth of stuff while my brother was just plain annoyed and sick of temples so we trudged quickly across the ruin. There were even vendors inside the complex so we were running away from them, as quickly as possible to get to the safety of our tuk-tuk.
The next day....
6. Banteay Srei
Honestly, I had half a mind to suggest cancelling today's temple trip and chillax in our hotel watching Cartoon Network or go shopping in town instead. The anticipation of dust of the temples plus the rain made me lazy. But we set off anyway, to Banteay Srei which is quite far from the main temple circuits of the Angkor Archaeological Park. It was about 30km away, and our tuk-tuk drove at a nice speed of 30km/h. The one-hour trip was not made any more pleasant by the need to balance between wanting to sleep and the fear of falling off the tuk-tuk. Banteay Srei is supposed to be pink, in the guidebooks, but the real site was more of a deep rose colour, which I guess is a variation of pink. It is the most intricately carved temple and also the smallest in scale, relative to the previous temples visited. The temple felt like a miniature for children or dwarves or hobbits.
7. East Mebon
Another temple-mountain. This temple had holes everywhere, at first I thought it used to be flooded with water, like what the city of Atlantis would look like, but actually the holes were there to aid with the covering of the temple walls with stucco, a kind of decorative plaster which has all but disappeared now.
8. Ta Som
Ta Som is like the offspring of Bayon and Ta Prohm, rocks in a disarray everywhere, the occasional tree, and also the occasional face.
9. Angkor Wat
On the third day after a traditional Cambodian lunch (complete with a deadly frog that can blind you with its pee and a rare blue-speckled lizard that sells for hundreds of dollars) we went back to Angkor Wat. Today it was breezy and less crowded, and we hung out at the complex for a few hours. I was listening to music from my travel mixtape and walking through pillared galleries and hopping across the exterior of the buildings and it felt downright awesome. We watched people: eager tourists and tour guides explaining the features of the Angkor Wat in foreign tongues, locals and their children sitting within the view of the towers, monks in orange with high-tech DSLRs and smartphones. It was really nice and if I were a Cambodian I would go hang out there every weekend too (since Cambodians get in for free) and immerse myself in the grandeur of the Angkor Wat again and again.