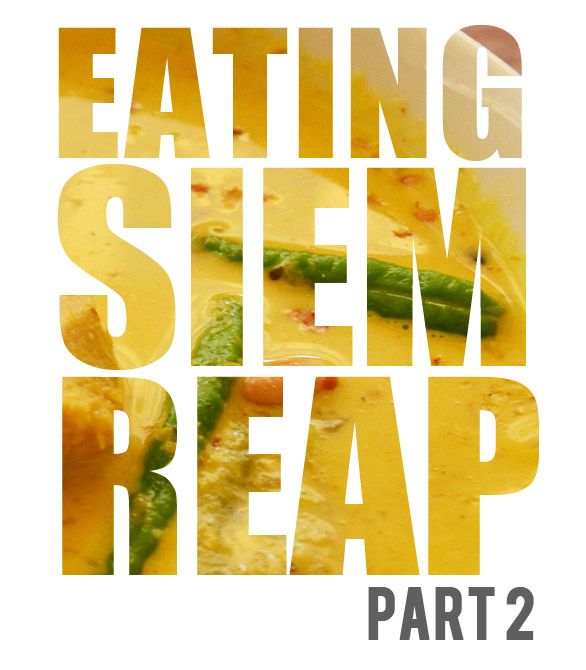 This is about that one time about a week ago that I went to Cambodia and ate as usual.

Part 1: The temples | Part 3: Out & around

I ate a lot of beef in Siem Reap simply because it was a lot cheaper relative to fish or chicken. Fish is apparently any random fish caught from Tonle Sap and suspiciously unspecified in menus.
1. Beef Amok
, ~$4.00, VIP Star Hotel Siem Reap
It's similar to Malaysia's otak-otak. The amok is the Khmer national dish and is a non-spicy curry.
2. Beef Lok Lak
, $1.50, roadside near Wat Bo Rd (not too sure)
This was good. I would say this is in the same family as the sweet and sour sauce.
3. Koay teow with beef
, $?, Sukisoup, Kids Plaza
This was good as well, but strangely the restaurant did not list its prices.
4. Local beef steamboat
, $?, ?
You throw all sort of things into the soup and wait for it to boil, including cow liver, and some chunks of what looks like lard.
5. Lucky Burger
, ~$2, Lucky Shopping Mall
This is the only burger joint I was able to find. McDonald's is nonexistent here. There was a salmon burger in the menu, which seemed really interesting but it was out of stock. The hamburger I got was sad and small and thin but I finished it anyway.
6. Vietnamese curry chicken
, $?, The Soup Dragon
I really liked this. It's something I would hold a party to celebrate of.
7. Boeuf au poivre
, $7, The Red Piano
A less fancy way would be calling this pepper steak, a seemingly unremarkable meal until you realize that The Red Piano was once frequented by Angelina Jolie while filming Tomb Raider. The restaurant even featured a special Tomb Raider cocktail.
8. Traditional Khmer cuisine??
, $?, opposite Angkor Balloon
Lunch here included lazing in the hammocks and dining alongside a reptile and a poisonous amphibian that visited the little hut.
9. Durians
, ~$3.50 per kg
Like potatoes in a durian suit.