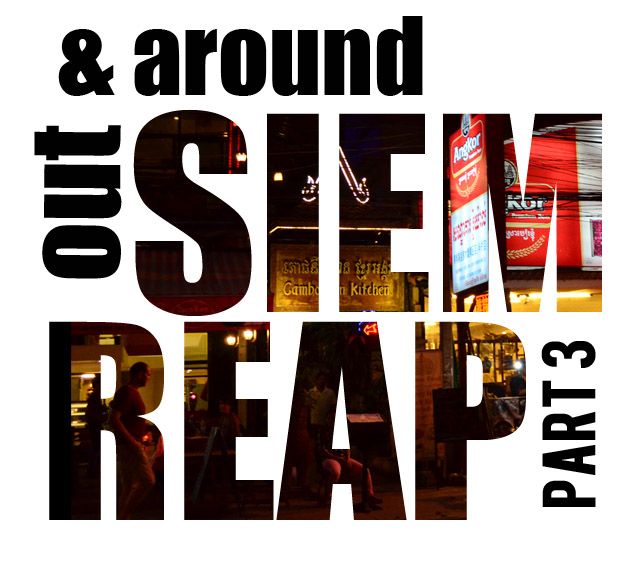 This is about that one time about a week ago that I went to Cambodia and did other things than eat and explore rocks.

Part 1: The temples | Part 2: Food
Getting around Siem Reap was incredibly easy. Siem Reap has a pretty small town anyway, so walking around the area to get to tourist spots from the hotel is entirely possible, but not in hot season of May when the heat makes it intolerable. Night time strolls are pleasant but naturally one has doubts about the safety of wandering around at night. The use of tuk-tuks are very widespread here, and not just for tourists, I have seen local children in school uniforms in tuk-tuks as well. There's always a tuk-tuk outside our hotel even at 8pm or 9pm. Tuk-tuks cost an average of $2 (Yes the US dollar is widely used here) to get around town and are a ton of fun. There doesn't seem to be a shortage of them, in fact most tuk-tuk drivers are eager to know your plans for the day after to see if they can secure a job for tomorrow before you find someone else.
Because tuk-tuks travel at a maximum of 30km/h or 40km/h, the traffic is incredibly slow. It gets annoying when you're sitting in the car of a Cambodian and he drives at 40 even when the road in front is clear.
The tourists in Siem Reap seem to outnumber the locals, but that's only because I made this observation at tourist spots such as Pub Street and the Night Market. The Night Market sells the same type of tourist souvenirs from stall to stall; there is hardly any difference between stalls except the seller. Even so, the typical Cambodian tourist T-shirts go for $2 per piece (I LOVE CAMBODIA, No tuk-tuk today, Danger! Landmines and of course the Angkor Wat prints in all colours) and tourist pants go for $4 per piece. Funny enough, the tourists in Siem Reap buy the same stuff and dress alike, so it's immediately obvious who's a tourist.
One incident in the Night Market freaked my brother out enough for him to include it in his list of Cambodian Nightmares. We were in the Night Market on the first day of our arrival and first days are always the worst. I wanted to buy a sarong to cover up when visiting the third level of Angkor Wat and the lady of this one stall brought out a green one with gold embroidery. Her opening price of $35 was shocking and offputting so we were about to walk away when she grabbed my arm really tightly and wouldn't let me go and I tried to leave but was tied down by my idiot sense of courtesy.
Lady....what price you want??
So we bargained until we hit $15 which was still expensive for a piece of cloth and at this point she was still holding on to my hand, and her friend with horribly white powdered face came out and held my other arm, and my mother and brother walked away so I was trapped there with no money to get me out of the mess and it felt really stupid to be stuck in that situation. Eventually my mother and brother came back and this time they held onto my brother too. We paid $10 for the sarong but more accurately for our freedom. And that was the end of our first night shopping trip.
After that though we went to the new night market with a Cambodian (he is a friend of a relative residing in Cambodia) and he spoke with the shopkeeper and got us good prices without the hassles of bargaining or dramatic arm-pulling. Besides the Night Market and Old Market, there's a shopping mall in Siem Reap (Lucky Shopping Mall) and it is pathetically small compared to the ones we have here in Malaysia. There couldn't be more than 10 shops at every floor, with the building having five floors I think.
There are a lot of vendor-children around Siem Reap, but mostly in the temples. They also sell similar stuff and shout "One dollah one dollah" and are incredibly persistent. I bought a one-dollah bamboo flute which was as useless as souvenirs come because the child who was selling it had really nice hair (he had slightly wavy fringe and it was streaked brown at the back). Something unusual I noticed was that some of them had dyed hair. I asked their mother about this and she said yes she dyes their hair at home. Oh. Okay.
Going around the streets I also noticed that all the books sold are fakes. There are the cheap fake tourist guidebooks which look as good as the real ones, and some badly printed classics or favourites (Life of Pi, Catcher in the Rye, works by Murakami). Even shops that exclusively sell books, sell fake books, with the exception of second-hand real books. The only real books I could find were in the airport. I might be looking in the wrong places though.
We watched the apsara dance in The Temple which is apparently quite popular for providing these dance performances while you eat. I thought the dancer looked really sad and felt like a bourgeois pig sitting there eating while people danced for us.
Another tourist thing we did was visit the Cambodian cultural village. Ticket was $15 per person for a stroll around a huge area visiting museums of historical wax figures, climbing on small hills on which rested miniature buildings and getting too freaked out to enter the Judgement Tunnel & Ghost House. There was this buffalo chained to a tree which I thought was an impressive work of taxidermy, but no, it moved and it was the real thing. Then I felt sorry for this creature for being all dressed up and chained to one spot all day long. When I snapped a photo it looked at me stupidly. (Fascinating as the buffalo was, I thought the National Angkor Museum was more fun, for $12)
Accommodation is cheap here. For about $40 per night we stayed in Claremont Angkor Boutique Hotel which is a three-star hotel with extremely friendly staff (Not to overgeneralize, but most Cambodians we met were really friendly. I was so freaked out on the day we arrived at the hospitality we were receiving because I was paranoid they were going to capitalize on it one way or another)(which they probably did but it was worth it and you get used to it afterwards). Our hotel had three single beds, air-cond, a bathtub, daily housekeeping (once we barged into the room while the housekeepers were doing their stuff AND THEY LOOKED SO HAPPY OK), Cartoon Network, a small swimming pool and breakfast every day at the rooftop.